(The video collage above consists of contributions by the members of the Revoid Ensemble, and is about them and their whereabouts, the day before coming together for this October tour.)
The CD was recorded live at Teaterstudio Lederman earlier this year. In the recordings below you can hear us dealing with some of the possibilities we'll be investigating further in our project; different forms of transitions, improvised development of pre-composed "seed-like" modules, and "combinatorics", our take on a synergistic bringing together of diverse and even conflictual elements. The CD was awarded 2017 winner of Swedish Indie Awards (Manifestgalan) as Best Experimental.
"THE REVOID ENSEMBLE" (FOUND YOU RECORDINGS, FYR034)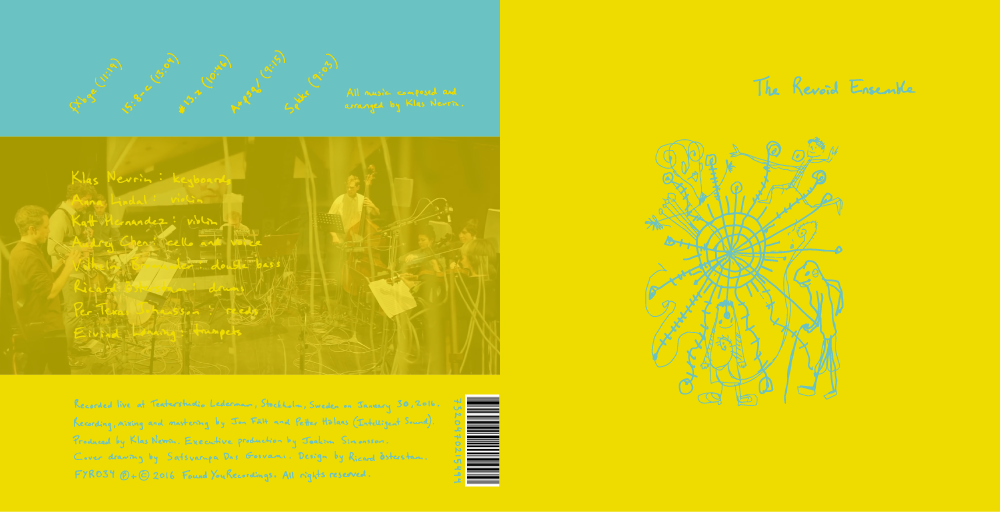 01/29/16 "fXbge"
01/29/16 "15:8-c"
01/29/16 "#13.z"
01/29/16 "A+psq/"
01/29/16 #Spkkr"
CD Release Tour
23 Oct. Mimento Festival, Eskilstuna
25 Oct. Royal College of Music, Stockholm
26 Oct. Brötz, Gothenburg
27 Oct. Jazz House, Copenhagen
28 Oct. Jazz Festival 2016, Umeå
The tour was highly valuable for us in the ways we deepened our utilizing the potential of the compositions for collective improvisations. Each concert brought new possibilities and we continuously experimented with different approaches, not least by mixing different modules with each other in ways that gave us essential ideas for the project's future. In connection with the concert in Stockholm, we devoted one day for discussing Revoid's work, regarding various issues and challenges such as "uncomfortability" (how to deal with uncomfortable transitions) and leadership in an ensemble with emphasis on collective improvisation. Documentary artist and live illustrator illustrator Jenny Soep joined us to create live images during the concert and the discussions, using both cutting edge technology as well as more traditional techniques such as watercolor. The final concert in Umeå was an especially rewarding experience, and here the differences vis-á-vis the CD recording are sometimes rather striking (listen below).
11/28/16 "Live in Umeå 1"
11/28/16 "Live in Umeå 2"